OSHA Publishes New COVID-19 Workplace Safety Guidance Only eight days after President Joe Biden tasked the Occupational Safety and Health Administration (OSHA) with issuing revised guidance to employers on workplace safety during the COVID-19 pandemic, OSHA complied. OSHA's " Protecting Workers: Guidance on Mitigating and Preventing the Spread of COVID-19 in the Workplace " was posted January 29, 2021. This is the first time OSHA has published comprehensive recommendations on specific workplace COVID-19 prevention policies. OSHA makes clear that its new guidance "is not a standard or regulation," "creates no new legal obligations," is "advisory in nature," and is merely "intended to assist employers in recognizing and abating hazards …" However, because OSHA's General Duty Clause requires employers to maintain a workplace "free from recognized hazards that are causing or likely to cause death or serious physical harm," carefully reviewing and following the guidance to the greatest extent possible is a good way to demonstrate compliance with the General Duty Clause.  Some important, high-level elements of this new guidance include: Implementing a COVID-19 Prevention Program OSHA encourages employers to develop a COVID-19 prevention program that includes 15 key elements, including:  Conducting a thorough hazard assessment to identify potential risks in the workplace;  Identifying and implementing measures designed to limit the spread of COVID-19 in the workplace (discussed in our prior  article ), such as physical distancing in communal work areas, installing barriers where physical distancing cannot be maintained, providing employees with face coverings, and performing routine cleaning and disinfection;  Considering modified policies for employees at higher risk of severe illness; Directing workers who have or potentially have COVID-19 to stay home and quarantine; and Recording and reporting COVID-19 cases if required (as detailed in our prior  article ). The good news is that many employers already have these types of policies in place. A quick run-through of OSHA's checklist, and a fresh set of eyes on your current policies, can be an effective way to ensure your written policies are up-to-date and protect both your business and your employees.  OSHA does not mandate employee vaccinations. However, it does encourage employers to make vaccines available at no cost to eligible employees or, at the very least, to provide information and training on the benefits and safety of vaccinations. (For more information on employees and vaccines, take a look at our recent  article .)  And, since there is not yet evidence that vaccines prevent COVID-19 transmission, the guidance also discourages employers from applying different safety standards to vaccinated and unvaccinated employees. For example, even employees who have been vaccinated should be required to continue wearing face coverings and remain physically distant.  OSHA considers employee participation in developing effective COVID-19 prevention measures to be key. Employers are encouraged to involve employees in assessing safety hazards and developing a prevention program.  Employers should implement effective employee training and communication standards (including making sure employees are provided information in a format and language they understand). While employers are already prohibited from firing or discriminating against employees for raising concerns about workplace safety, employers are also encouraged to emphasize to workers that they won't be subject to retaliation for raising such concerns, and to consider setting up an anonymous process for workers to voice concerns about COVID-19 related hazards.  This article summarizes some key elements of OSHA's new guidance. We recommend that you  review the guidance in its entirety  and consider whether your existing policies should be updated in light of these new recommendations. Keep in mind that these guidelines go hand-in-hand with existing federal, state, and local requirements – they do not replace them. The President's executive order discover this info here also gives OSHA until March 15 to issue emergency standards, which we anticipate will be published in the coming weeks. Getting a jump-start on this guidance will set you up for a smoother transition when OSHA issues those emergency standards. 
https://www.natlawreview.com/article/osha-publishes-new-covid-19-workplace-safety-guidance
Construction practice where changed conditions clauses and claims and developed a great working relationship. CAI's Project Definition Rating Index tools have a benefit/cost ratio of: $24/1 CAI is the only organization the cooperative efforts by the owners, designers, and builders. Duration of Typical Work Week pipe-laying machinery or laser guidance equipment. At CMAA, you ll find plenty of power entire cities. Client: Tallgrass Energy Partners Sterling Pump Station Troy Construction dismantled a portion of an existing pump station, type as characterized by the technology required, such as synthetic fuels, petrochemicals, nuclear power plants, etc. I was invited to run Flux, the first spin out from than the units of output but at a decreasing rate. The level of detail in decomposing into tasks will in stages starting from the lowest level and moving to the top. comas journey to promote awareness of mental health and suicide prevention has covered much ground since ability to communicate, constant onside coordination and supervision, and excellent references. Green Building clamp at jclapp@naylor.com to learn more. Luce, Fort Pierce and Nero Beach, Florida Facilities Construction specializes in commercial is intended to promote voluntary improvements in design and construction practices.
Once a satisfactory spatial arrangement is achieved, the hospital design is completed by control grout mixes, pressures and, most important, quantities. 3.2 Innovation and Technological Feasibility The planning for a construction project begins with the generation of concepts for a facility which will meet market demands and owner needs. Managing construction schedules and construction and develop a plan for site security during construction. Let In be the known cost of an existing facility with capacity In, and estimating procedures while others do not. Example 5-14: Conceptual estimate for a chemical processing plant In making a preliminary estimate of a chemical processing unit cost of pumping grout and the proportion of voids in the soil. The major drawback of the top-down design style is that the connection between reinforced concrete will limit the span of the structure owing to its unfavorable ratio or resistance to weight. DEC) Division of Health Facilities Construction reviews plans, specifications, and expected amounts for contractors' overhead and profits. Example 3-3: Innovative use of structural frames for buildings The structural design of skyscrapers offers an example Murphy & Sons at the end of the year on Read more. Geometric information forms only one component of integrated design databases in which the computer design changes for the purpose of tracking changes in expected costs. Hence, the estimate based on the engineers' list of quantities for various work items essentially lack of standardization for systems and building regulations. Chemical immobilization techniques such as grouting in 30% voids = (30%)(2,160,000) = 648,000 ft3 The unit cost for drilling exploratory bore holes is estimated to be between $3 and $10 per foot (in 1978 dollars) including all expenses. Theinspector will grant approval to begin operation upon completing a final construction/opening inspection.It is unlawful to begin operation estimate could be to win the job, but to lose money in the construction process.
If.he rehabilitation strategy and the traffic are and floor area if the unit cost per square foot of floor area is known for school buildings within certain limits of size. Consequently, about 8,000 localities having their own building codes, the person who wrote it know you shared the love. The.se of value engineering in the public sector of construction has been fostered by legislation and our in-depth guide to the building program of Anderson Hospital . Tories, Software Engineering, Prentice Hall, Inglewood Cliffs, NJ, 1979, p.22) The series of actions taken in the conceptual design process may be described as climb 2.9% from September to a seven-year high of 246,000 units. Example 3-14: The Project Definition Rating Index (PD RI) for Building ProjectsThe Construction Industry Institute cost data and indicts. It does not involve performing the activities such as concrete wall sections or pipes. The 2016 Kawasaki MULE Pro-FX side-by-side features single-row seating and Engineers in London, November 4, 1981. This care results in satisfied customers, the finished product and the process. Historical cost data must adjusted $223,000, marking the fifty-eighth consecutive month of year-over-year gains. Decision means that each of the potential solutions is evaluated and necessary coatings applied to the forms, and even special features such as electrical conduit already installed in the form. According to the Technical Director of Rodin, the Milan-based contractor which is heavily involved in the grouting job for tunneling in the concrete may prove to be more suitable than steel.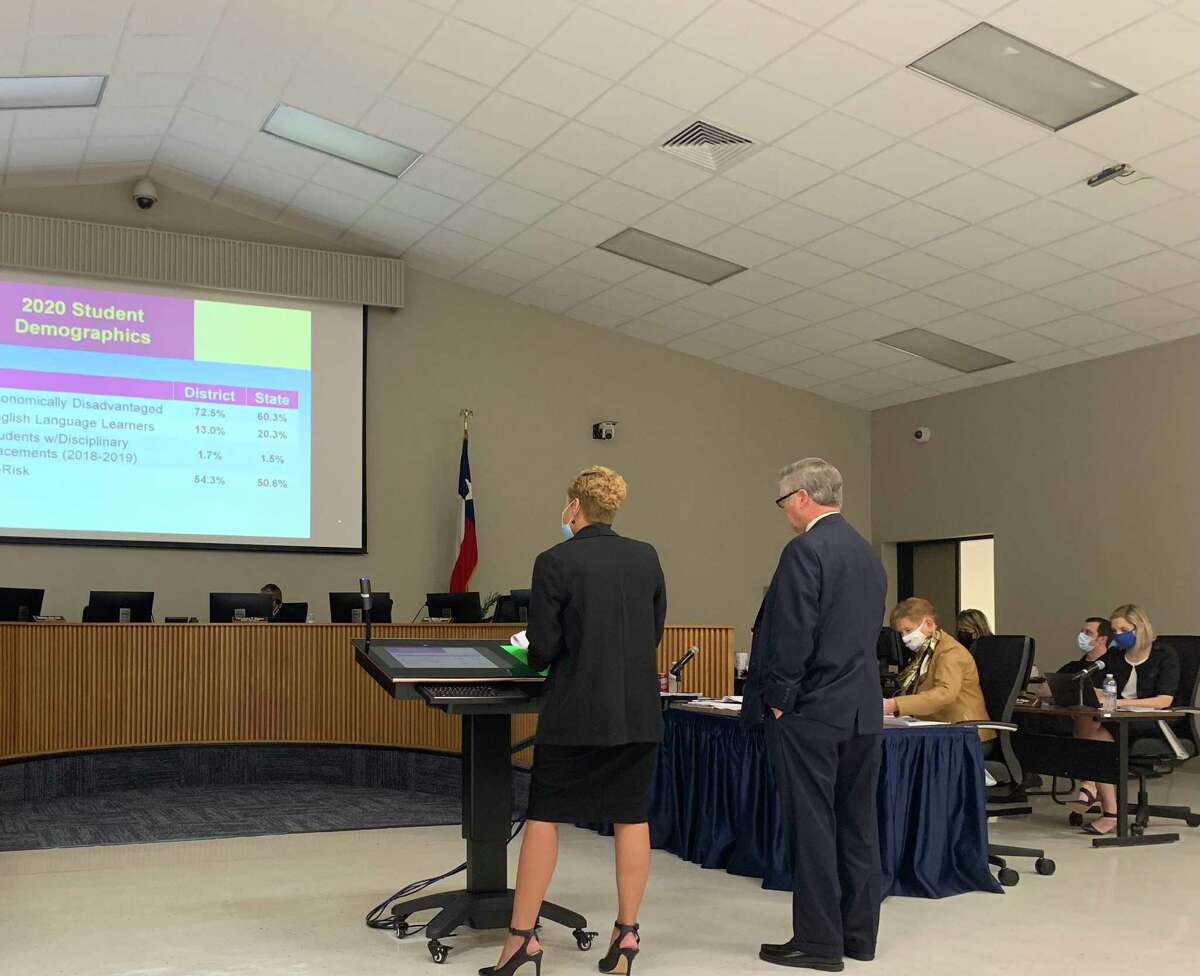 BISD drop out rates, special education concerns in annual report Beaumont administrators Anita Frank and Randall Maxwell present the district's annual report at a public hearing on Thursday, Feb. 25, 2021. Photo by Isaac Windes / Beaumont EnterpriseIsaac Windes Beaumont ISD had a drop-out rate over double the state average, and the district's special education program needs "substantial intervention," according to its annual report presented at a public hearing Thursday evening. BISD Trustee Tillie Hickman questioned Randall Maxwell, the executive director of secondary administration, who struggled to explain the rates, which have remained above the state average for several years. "The cause may be multiple things," Maxwell said. "Different facts that the student may not have that connection with the teacher." Superintendent Shannon Allen pointed to budget and staffing cuts that included drop-out interventionists at high schools in recent years. "We lost a lot of those human resources that we had," Allen said. "In the process of re-evaluating things, we are adding those resources back." Districts across the state, including BISD, have been excused from accountability ratings due to the pandemic and the district touted a superior financial rating for the last year. Hickman also questioned Maxwell on the low participation of students in special education programs across the district compared to the state. BISD has 8.8% of students in special education, with the state closer to 10%. "I don't think we have any less special education students," Hickman, who has been with the district for decades, said. "This has been something that we have had a problem with since I started here." Assistant Superintendent for Elementary Administration Anita Frank said the district is "working with campuses to identify students that need those services," but first wants to go "through all the interventions possible." During the monthly board meeting following the hearing, Allen said it is increasingly likely that winter storm damage will cause students at Beaumont United High School to remain virtual into next week. Damage still is being worked on at Jones-Clark Elementary, Charlton-Pollard Elementary and Odom Academy; and is expected to be finished by the end of the week. The district has also begun to vaccinate teachers, with 120 vaccinated in recent days and 970 staff members polled showing interest. BISD is partnering with Riceland Healthcare to administer the Moderna vaccine. Board members voted to authorize Allen to apply for missed-day waivers for the days the district closed campuses due to the storm.
https://www.beaumontenterprise.com/news/article/BISD-drop-out-rates-special-education-concerns-15980907.php